Vivian Griego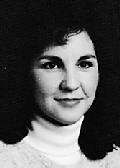 Sadly, we announce the passing of Vivian Griego of Nicki's Circle Central and North on July 13th, 2013. Vivan lived in Ft. Collins and joined Nicki's Circle in May 2011 after hearing about Jodi's Race for the first time. She was very interested in raising awareness and volunteered with COCA to spread the word about early detection. Vivian made many friends in the community and will be missed by all.
We will remember Vivian with love.
November 8, 1953 - July 13, 2013
From the Ft. Collins Coloradoan:
Vivian Dianne Griego passed from this earth on Saturday, July 13, 2013 after a courageous five year battle with ovarian cancer. Vivian was born Nov. 8, 1953 in Cheyenne, Wyo., the eldest of five children born to Isadore and Angelina Roybal.
She is survived by her husband, the love of her life, Daniel Griego, Fort Collins, Colo.; two sons from a previous marriage, Christian Gile (Kimberly), Highlands Ranch, Colo. and Matthew Gile (Jessica), Beirut, Lebanon. She is also survived by five grandchildren who were the apple of her eye, Caleb, Luke and Hannah Gile of Highlands Ranch, Colo. and Thomas and Josef Gile of Beirut, Lebanon. In addition she is survived by her parents, Isadore and Angelina, Fort Collins, Colo.; her four siblings, Isadore Roybal Jr. and Darlene Maki (Dennis) of Fort Collins, Colo.; Suzie Sharpe (Chuck), Aurora, Colo.; and Carol Cortez (John), Eagle, Colo.
Vivian was a truly awesome woman, a dedicated servant of her Lord and Savior, Jesus Christ, who by her fervor and daily example led many people to God during her lifetime and inspired even many more to a stronger faith. She was a devoted and passionately loving wife, an unfailing champion of her children and a very doting grandmother.
Vivian's work career was diverse and began early as a young teen staffing a concession stand at Cheyenne Frontier days. After graduation from East High School in Cheyenne in 1972 she attended the University of Wyoming in Laramie on a full scholarship majoring in business where she relates she had one of her all-time favorite jobs working part-time at a department store soda fountain making banana splits and other soda fountain treats. She believes the store lost money because she put so much time and ingredients into each one to assure a delighted customer. That wish to delight has been an important aspect of Vivian's personality throughout her life. After leaving the University of Wyoming she went on to become a telephone operator and later a manager at what was then Mountain Bell in Cheyenne. Upon her decision to move to Fort Collins in 1984 she began a nineteen year period as an administrative assistant with a variety of significant responsibilities at Platte River Power Authority, Hewlett-Packard, Colorado State University, Vectra Bank, and the University of Colorado at Denver; but Vivian's "real" career was always that of an evangelist. In recent years her writings in her "Caring Bridge" website describing her faith journey through the cancer experience reached many hundreds across the United States and she received many e-mails from people saying how those writings had changed their lives forever. These writings have also served as discussion materials selected for teachings by a pastor in at least one church. If anyone deserves to hear the words "Well done, good and faithful servant" it is this wonderful woman who had such a talent for using her everyday life to glorify her Lord.
The family would like to thank her many health care providers, particularly the nurses at Poudre Valley Hospital and the staff of Pathways Hospice at McKee medical center. Friends may send condolences to the family in care of Allnutt Funeral Chapel, 650 West Drake Road, Fort Collins, CO 80526.
see: http://www.coloradoan.com/viewart/20130716/OBITUARIES/307160305/Vivian-Dianne-Griego