Tina Sono Geis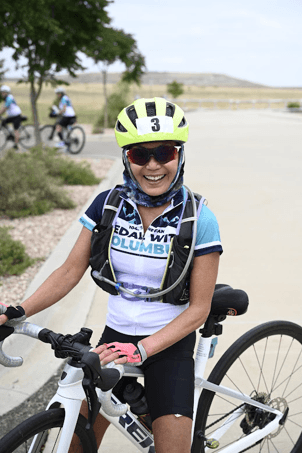 Tina participated in COCA's event "Pedal with Polumbus" in 2022 and raised over $35,000...the largest individual fundraising effort in COCA's history. She was an incredible force with an indefatigable spirit. She is very deeply loved and missed by all at COCA. 
Tina Jun Sono Gies went to be with the Lord on September 3, 2023 after a valiant battle with ovarian cancer. Tina was born to Tom F. Sono and Molly H. Yamase in Vancouver, WA on July 6, 1959. Tina was raised in Portland, OR where she graduated from Jefferson High School. She married Brett Gies in a private ceremony with just the two of them and their five dogs at a special place on their favorite running trail at Hewlett's Gulch in the Poudre Canyon on January 22, 2017.

Tina was a high school varsity athlete in tennis and volleyball and high school cheerleader. She played collegiate volleyball for University of Oregon and Portland State. After a career with Nike, Tina graduated from the Oregon School of Massage. She is known for deep tissue massage and enjoyed working on athletes. Tina developed a loyal client base and thriving business due to her personality and ability to "go deep" into the muscles. Tina was an avid runner, cyclist and outdoor enthusiast. She loved taking her dogs for strolls in the natural spaces within Ft. Collins. Tina was often seen swimming her dogs in the Poudre River or Horsetooth Reservoir. She was dedicated to her dogs and treated them with great care. Tina loved sports. She was an avid fan of the Oregon Ducks. Tina enjoyed listening to sports radio and was glued to the television when her favorite football teams played.

Tina fought a courageous battle with ovarian cancer for three and a half years. She never complained of the pain or discomfort, kept a positive attitude and kept her competitive spirit. She greeted everyone with a smile and was more concerned about them than she was herself. Tina was a friend to everyone she met. She had nicknames for all of her friends and clients which is a true testament to her deep love for her friends and family.

Tina is survived by her husband Brett Gies, pups Molly and Sugar, sister Faye (Diane), brother Craig (Lisa), and niece Emily (Jordan). Tina was preceded in death by her parents Tom and Molly Sono, pups Mikey, Chucky, Ichiro and Beau in addition to numerous aunts, uncles and cousins.

Tina's favorite time of year was fall. A Celebration of Life will be held at The Genesis Project or "Big C" as she called it on October 28th at 2:00 pm.