Solange M. Huggins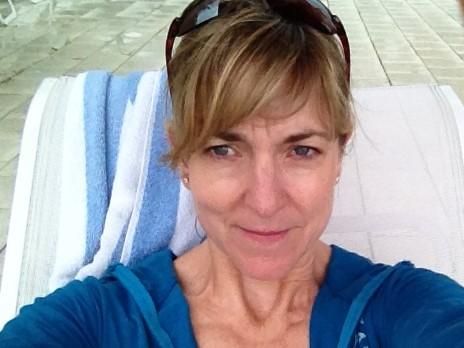 Solange Huggins taken far too soon by ovarian cancer discovered less than 16 months ago, Solange reluctantly lost her valiant battle against the disease.  Solange was adored by her husband, children, and siblings.  She leaves behind her best friend, husband, Mark Krier, after 15 wonderful years together, and her children Isabelle and Hayden and her step-daughters Kelsi (husband Park) Roberts and Quinn Krier.  Solange is survived by her siblings Marie (Michael), Elise (Gary), Eve, Joe (Kimberly), Pierre (Lois), and Annie (Andy). 
Solange was a native Coloradan and loved the state.   She graduated from Manual High School in 1984 and leaves behind many Thunderbolts.  Her first college was Sarah Lawrence, she returned home to complete her degree at Colorado College.  She made life-long friends there and delved into one of her great loves - reading.  A year in Japan teaching English separated her from a more traditional use of her college education to following her father's career as an engineer.  This led her to her passion of infrastructure engineering.  She applied this passion working for SEMA, Structures Inc., Garney, and most recently PCL.  The engineering career was inspired by her father.  Through her work, she made her mark on Colorado and Denver, managing many large infrastructure construction projects.  She made lasting friendships everywhere she went.  Solange was a gifted yoga teacher who enhanced the lives, hearts, and souls of all. 
Solange was a special soul whose passions were many.  Always curious, she loved traveling to explore other people and places, the Caribbean being a favorite.  She and Mark annually explored the islands of the Caribbean.  Not to be left out were her passion for Greece, Italy, and Paris which she cherished most of all.  Inspired by her mother's love of gardening Solange cultivated a beautiful and dynamic garden of her own.  She will be missed by all.
A celebration of Solange's life will be held on Saturday, February 1, 2020 from 2-5pm at Clements Community Center, 1580 Yarrow Street, Lakewood 80214.
In lieu of flowers, if you want to please send donations in memory of Solange to:  the Ovarian Cancer Research Alliance https://ocrahope.org