Risa Buckstein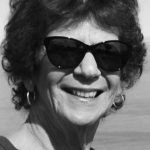 Risa Buckstein, whose dedication to Jewish knowledge and identity transformed our community's youth for 40 years, passed away Aug. 14, 2019, in Denver. Rabbi Yaakov Chaitovsky officiated at the Aug. 14 service at BMH-BJ. Interment followed at Mt. Nebo Cemetery. Feldman Mortuary made the arrangements.
"She put a tremendous amount of energy into this community," said Roni Ogin, who worked with Buckstein at CAJE and IST and was a close friend for 35 years.
"Many generations have been touched by her. She was like a sister to me."
Ogin said that Mrs. Buckstein had friends from all spheres of life: religious, synagogue, Hebrew High, teaching, IST, Hadassah, Jews and non-Jews.
"Last week we were all sitting together talking and each one of us said, 'She was my best friend.' Risa went back and forth to visit her seven beautiful grandchildren — and I'm sure each one of them thought they were her favorite."
Mrs. Buckstein, who joined CAJE in 1994, was the associate director in charge of youth. As director of IST, she created itineraries, met regularly with kids and their parents and was responsible for scholarships.
She was also principal of Hebrew High School, which brought together students from diverse backgrounds under one educational Jewish roof.
Mrs. Buckstein was diagnosed with ovarian cancer in November, 2013.
"Risa did not wear ovarian cancer like a badge," Ogin said. "But it was there under her blouse."
An active member of the Colorado Ovarian Cancer Alliance (COCA), she also was an empathetic and encouraging "cancer buddy" for Jewish women dealing with the dreaded disease.
"She brought us a program for this year on the risks of ovarian cancer for Jewish women, which the LEA chapter of Hadassah will present on Sept. 12 at Rodef Shalom," Ogin said.
She took a leadership role in Hadassah as outreach-strategic planning chair for the Desert Southwestern Region of Hadassah and co-founded the LEA chapter of Hadassah.
Mrs. Buckstein taught at Community Talmud Torah.
"Risa taught us to be gracious, humble, passionate about education, Jewish life and our heritage," Ogin said. "People in every stripe of Judaism respected and loved her.
"I think she would say that every day was good, even during the last six years. She was filled with gratitude for every day, and was thankful for all of them.
"She was a gift to all of us."
Mrs. Buckstein was born July 5, 1945, in Winthrop, Mass., and attended the University of Illinois at Chicago.
She married Jan Buckstein on July 19, 1970 and the couple moved to Denver.
Her loved ones said she "was an exceptional woman who devoted herself to her family, the Denver Jewish community and Israel."
Risa Buckstein is survived by her husband Jan Buckstein; sons Ron Buckstein, Michael (Yael) Buckstein and Adam (Chava) Buckstein; sister Barbara Finkelman; and grandchildren Emanuel, Sruly, Bosye Liba, Sholom, Simcha, Yehuda and Miriam.
Contributions may be made to BMJ-BJ, the LEA Chapter of Hadassah or the Colorado Ovarian Cancer Alliance, 1177 S. Bellaire St., #170, Denver, CO 80222.