Rhoda Storey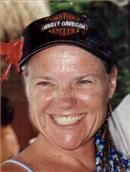 We were very sad to learn of the death of Rhoda Story (a wonderful, enthusiastic and beloved COCA volunteer) who passed away peacefully on 12/2/2015 after battling ovarian cancer for the past 3 1/2 years.
Born and raised in S. Milwaukee, WI; daughter of Harry and Evelyn Dean and sister of Tyler, Terry and Tim. She moved to San Diego, CA after high school and spent time enjoying the sun, sand and surf of southern California. Rhoda then decided she wanted to learn to ski, so she moved to Park City, UT and after 2 years she moved to Winter Park, CO. There she met the love of her life and future husband, Kent Story. They married at the Snow Mountain Ranch in 1980 and together they skied hard, played hard and enjoyed the friends of Winter Park to this day. Eventually, they moved to Denver in 1982 and raised two wonderful boys, Casey and Luke.
Rhoda worked for the University of Denver/Iliff School of Theology for 15 years, and then after receiving her college degree at age 45, in Human Performance in Sports, she became the recreation coordinator for the senior adults of Wheat Ridge at the Active Adult Center. For 15 years, Rhoda planned activities for seniors that took them to all points of Colorado, all seasons; from the theatres and restaurants in Denver to the ski slopes in the mountains. Rhoda made each trip memorable and fun. She loved to travel and the family was often spending holidays on the beach in Mexico or with a school group in Europe.
Her energy, smile and personality touched so many people from so many different directions. She loved great dinner parties, family holidays and a great margarita (no salt please). She will be sorely missed by her friends and family.
Rhoda was preceded in death by her parents, Harry and Evelyn Dean and brothers Terry and Tim. She is survived by her husband of 35 years, Kent; sons, Casey (Mari) and Luke; brother, Tyler (Susie); several nieces, nephews and grandnieces and grandnephews. A memorial service was held on Jan. 5, 2016 at 4pm at Hudson Gardens.