Nancy Ann Hammond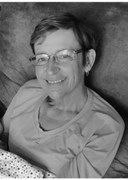 COCA is very sad to relay the news that dear Nancy Hammond of Greeley passed away on Saturday, December 16, 2017 at Pathways Hospice in Loveland, Colorado.
She was born to Jon & Berta (Amen) Hergenreter on December 7, 1957 in Sterling, Colorado. She was a graduate of Sterling High School in 1976 where she met Randy, her first and only love. On August 6, 1977 she married her best friend, Randy.
She was creative and loved to challenge herself with new crafts which often were gifted to those she loved. One project - which COCA is so grateful to Nancy for - was the creation of "CA-125" bracelets for every survivor at the 2015 Jodi's Race. We were so overwhelmed by Nancy's generosity of time in creating these thoughtful gifts for her fellow survivors.
Nancy also led Team Hammond at Jodi's Race every year.
Nancy had an adventurous spirit and she fed it by traveling and exploring places such as Costa Rica, Hawaii, England, Mexico and multiple states. But, her favorite destination was anywhere that included her grandbabies whether it was to visit them in Oregon or taking them on a cruise. Her love for Randy and her children was only surpassed by her love for her grandbabies.
Nancy was a natural and selfless nurturer to all who met her and she welcomed everybody with open arms and a loving heart.
She is survived by her husband, Randy, her son, Jacob (Sarah) Hammond, her daughter, Jessica Gonquist, her grandchildren, Wyatt, Hudson, Maisie, and Jett Hammond, and Jace Gronquist, her brothers, Mike (Dixie) Hergenreter and Pat (Susan) Hergenreter, her sisters, Sharon Weingardt, Marianne (Mike) Lynch, and Judy Hergenreter. She was preceded in death by her parents, Jon & Berta Hergenreter, a sister Jeanne (Paul) Berhost, a brother, Jon Hergenreter and a brother-in-law, Tom Weingardt.