Mayela Vallejos-Ramírez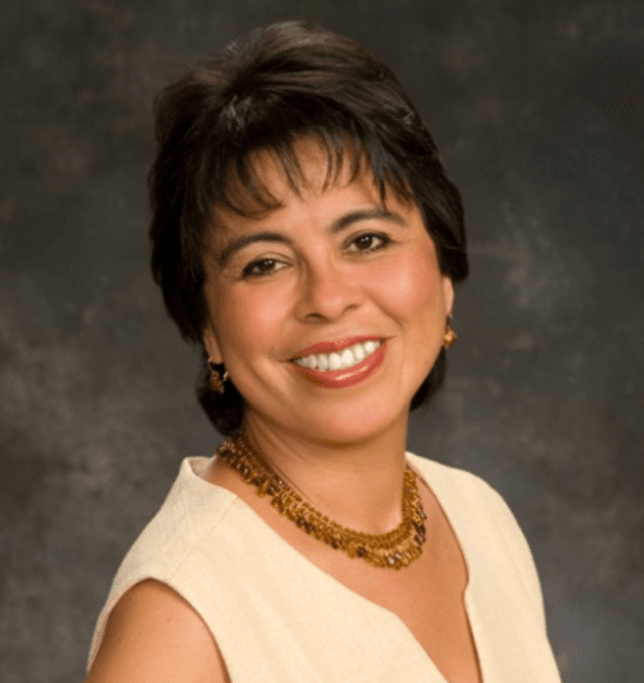 Mayela Vallejos-Ramirez (1958 - 2022)
Professor Mayela Vallejos-Ramírez, 63, a long-time resident of Grand Junction, passed away on March 31, 2022, following a long and courageous battle with ovarian cancer. She spent the last nine months of her life in her beloved Costa Rica, in the care of her niece, Karla Ramírez, her godson, Christian Duarte, and Christian's mother, Bagdelia Duarte Álvarez. 
Mayela was born on December 31, 1958, to Lutzgarda Ramírez Arrieta and Enrique Vallejos Vallejos, in Santa Cruz de Guanacaste, Costa Rica. Graduating from the University of Costa Rica in 1987 with a B.A. in Education and English Literature was the first step in a long and distinguished academic career. Mayela earned her Master's Degree in Latin American Literature from West Virginia University in 1992 and was awarded her Ph.D. from the University of Nebraska in 1997, receiving several prestigious fellowships along the way.  
In 2003, Mayela moved to Grand Junction to join Colorado Mesa University as Professor of Spanish, lecturing the Spanish language, as well as Latin American and Spanish literature, history and culture. In her almost twenty years at CMU, Mayela was an inspirational educator; she set very high standards for her students, inspiring them both with her love of literature and her passion for education. Her greatest legacy lies in the many former students who have gone on to become educators, striving to emulate Profesora Mayela. 
In the course of her professional life, Mayela published numerous articles in literary academic journals in Costa Rica, the United States, Colombia, Martinique, Mexico, Italy, and Spain. She presented at academic conferences and loved to share her research with her students and the entire CMU community. Mayela was without doubt the driving force behind many Latino cultural events at the university. In the summer of 2005, she was invited to the University of Costa Rica as a post-doctorate scholar. Mayela later was co-author of two books on literary criticism and co-translator of a novel by renowned Costa Rican writer Linda Berrón into the English language. 
Those who knew Mayela well described her as a force of nature. Yet, they also attest to how her sunny smile could brighten the darkest day. Her approach to all aspects of life was informed by her faith and by her strong connection to her family and her wide circle of friends. Here in Grand Junction, she was an active member of Delta Kappa Gamma Society International, a woman teachers' honor society, and the Cosmo Club, an international women's group. Mayela was a generous host who loved to entertain in her home, as well as bring her culinary delights to the classroom. Her students would regularly be treated to one of her famous cakes or flans.  
Cooking had always occupied a prominent place in Mayela's life, yet it was when she was battling cancer that she turned to the kitchen to combine her love for literature and good food. She published culinary articles in literary magazines and co-authored two bilingual cookbooks with her good friend Dr. Pepa Lago-Grana, with a third to be published posthumously.  
Predeceased by her parents and her only brother, Carlos Ramírez, Mayela is survived by her sister-in-law María José Argüello Morales and her niece, Karla Ramírez. Mayela holds a special place in the hearts of her family and many close friends here in the Grand Valley and across the globe. 
The family would like to express their sincere gratitude to Dr. Kyle Work and his team at St. Mary's Oncology Unit for their care and compassion over the years.  
A celebration of life for our dear Mayelita will be held on Friday, May 20, 2022, at 5.00 p.m. at Immaculate Heart of Mary Catholic Church. A potluck dinner in the Friendship Room will follow the mass. To raise awareness for ovarian cancer, we would encourage attendees to wear the color teal. 
In lieu of flowers, please consider donations to the Mayela Vallejos-Ramírez CMU Scholarship Fund or the Colorado Ovarian Cancer Alliance. 
https://www.supportingcmu.com/mayela-vallejos-ramirez-memorial 
https://www.colo-ovariancancer.org/how_to_help/donate/make-a-donation.html