Mary Hope Dale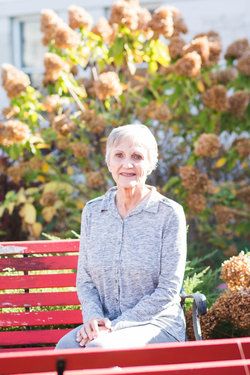 Hope was a very beloved friend of COCA, volunteering to raise awareness at many health fairs and participating in Survivors Teaching Students: Saving Women's Lives. We are deeply saddened by the loss of this wonderful spirit.
Mary Hope Dale, 71, of Carmel, IN and Wheat Ridge, CO, passed away peacefully October 27, 2017, surrounded by her loved ones. She was born on January 27, 1946 in Schenectady, NY to Steven and Mary Vasko.
After visiting friends in Colorado, Mary "Hope" fell in love with the mountains and in 1980, she and her family moved to Boulder County, Colorado, where she worked and raised her children. She completed her nursing degrees at Hudson Valley and Front Range Community Colleges. In pursuit of helping others, she later returned to school and received her Bachelor of Arts in contemplative psychology from Naropa University in 1999 and Master of Arts in psychology from Regis University in 2003. She spent over 40 years working as a Registered Nurse and then, also, as a Licensed Practicing Counselor.
After her diagnosis of ovarian cancer in 2004, she worked tirelessly as an advocate for women by raising awareness of the signs and symptoms of ovarian cancer. She was passionate about providing support to other survivors and educating health care professionals. She was an inspiration to all providing uplifting positivity and hope.
She is survived by and will be dearly missed by her daughters, Jennifer (Chris Mckim) Donnelly, Colleen (Brandon) Owens, and Kristen (David Nomm) Donnelly; brothers, Steve, John, and Joe Vasko; grandchildren, Ariel Jones, Zachary Raven-Hawk, Lauren Owens, Cameron Owens, Logan Owens, Tiiu Nomm, and Kye Nomm.
She was preceded in death by her parents Steven and Mary Vasko and brother Paul Vasko.
An open house will be held on November 12th from 1:00 pm to 3:00 pm. This remembrance will take place at the home she shared with her daughter's family at 13509 Sedgwick Lane, Carmel, IN 46074. A Celebration of Life will be held at a future date in Colorado.
In lieu of flowers, memorial donations may be made to the Colorado Ovarian Cancer Alliance "COCA", 1777 S Bellaire St, Suite 170 Denver, CO 80222-4310, or online at https://app.etapestry.com/onlineforms/ColoradoOvarianCancer/donatenow.html
Friends may leave a message of condolence by visiting the online obituary at www.arnmortuary.com.