Lucy Trujillo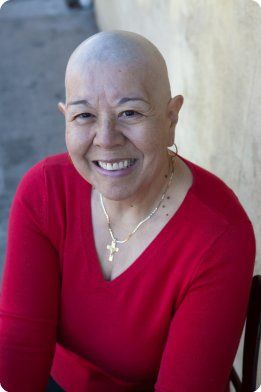 Lucy Trujillo, first Executive Director of Colorado Ovarian Cancer Alliance, passed away on Thursday evening, February 17th. She was surrounded by her family and friends. Memorial services are pending.
Lucy was COCA's first Executive Director and she did much to help expand the scope and breadth of the organization. She will be missed. Read more >>
We send love and blessings to her family and friends. May Lucy's spirit rest in beauty and peace.
November 20, 1951 – February 17, 2011
We will remember Lucy with love.
Dear friends of COCA,
As I reflect on the magnitude of goodness Lucy Trujillo brought to the Colorado Ovarian Cancer Alliance (COCA), I remember the kindness and friendship she showed to all those whose lives she touched. Lucy's "consejos," which in Spanish means wisdom with love, are gifts I hold close to my heart. I remember all the women lost to this disease, including my mother, and know that as we remember and honor these women, and today especially Lucy, we must continue to fight. We must continue to bring awareness, promote education, and better support the beautiful women of Nicki's Circle – for you are the heart of this organization. COCA will continue to move forward and do good.
Adelante´ (forward with passion)
Pep Torres, Executive Director
I am very unhappy to report that we have lost Lucy Trujillo, our first Executive Director, who served COCA in that position from January 2009 through December 2010. Lucy died of ovarian cancer on February 17th, 2011, at 5:45pm, with love from family and friends surrounding her. Lucy was key in the growth of COCA to its present strength, and she was my good friend.
Lucy has lost her battle with ovarian cancer, but her work has meant survival for many other women with our disease. Lucy's work extended beyond COCA where she was a force throughout the cancer community and before making an impact there, her work was dedicated to changing the lives of youth and families. We will miss her terribly and we will always remember how important she has been to COCA and our community.
Mary Phillips, COCA President
Bertha Lynn 7NEWS wrote: "I am so sorry that Lucy's time with us has ended. She fought the valiant fight, inspiring others, even as she battled her devastating disease. My heart goes out to her family and those in the COCA community. I was just looking at pictures of Lucy on a sunny, vibrant day at the State Capitol. She was a great representative of the fight against ovarian cancer there and when we interviewed her on the news. We'll pay our respects to Lucy coming up later this morning on 7 News at 11."
So sorry to hear of the loss of such a stalwart warrior. I did not know Lucy personally. I have read about her online. The world is diminished with her loss.
Carolyn Kalaskie
Outreach Coordinator / ANGEL Network Liaison
Penrose Cancer Center
2222 N. Nevada Ave.
Colorado Springs Colorado, 80907
(719) 776-5826 FAX: (719) 776-2609
carolynkalaskie@centura.org
May the Lord be with all of you who knew and appreciated Lucy.
Michelle E Parks, MBA, APIO
Director of Marketing
Spanish Peaks Regional Health Center and
Colorado State Veterans Nursing Home
23500 US Highway 160
Walsenburg, CO 81089
(Ofc)719-738-5194 (Fax) 719-738-5138
Although I never had the privilege of meeting Lucy, we will be with you all in spirit as you celebrate her life. We are so sorry to hear of your loss. May we all strive to carry on her passion and her strength to see others battle this terrible disease.
With our deepest sympathy,
Kama Winter, Director of Communications & the
Staff at Cops Fighting Cancer
Praying for Lucy and her family and friends.
Anne Smith, Principal
303.349.7650
anne@evolvecomm.net
Our thoughts and prayers are with one and all at this most difficult time!
Martha Simmons
Dani's Foundation
Martha Simmons
Executive Director
Dani's Foundation
1600 Broadway, Suite 2400
Denver, CO 80202
303.601.1881
www.danisfoundation.org