Linda Carbajal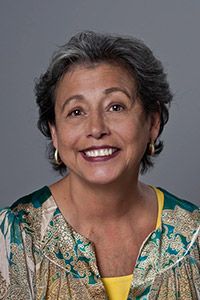 We are sad to learn of the passing of Linda Carbajal of Ft. Collins. Linda came to Nicki's Circle Central several times with her friend Vivian Greigo, also of Ft. Collins. Linda worked in the College of Education at The University of Northern Colorado in Greeley from 2003-2013 as Director of the Cumbres Program. She will be missed by family and colleagues alike.
We will remember Linda with love.
Linda J. Carbajal
May 2, 1947 - July 24, 2013
LINDA J. CARBAJAL was born in Pueblo, Colorado May 2, 1947 to James (deceased) and Marcella Montoya. She went Home to be with the Lord on July 24, 2013.
Linda is survived by her husband, Gil Carbajal; four children, ten grandchildren, and four great grandchildren; her mother, Marcella; one sister; and three brothers.
She grew up in Pueblo, graduated from South High School and CSU-Pueblo with a degree in education. She earned her Master's of Arts Degree in Counseling from CSU-Fort Collins.
Linda taught one year in Pueblo, one year in Denver and was an educator for twenty-nine years in the Poudre School District. In Fort Collins she taught English at Lesher Junior High School and was a counselor at Centennial High School and Fort Collins High School.
Linda was in the College of Education at The University of Northern Colorado 2003-2013 as Director of the Cumbres Program, a teacher preparation and support program.
From day one as a classroom teacher, counselor and Director of the University of Northern Colorado Cumbres Program, Linda loved being an educator and touched and influenced innumerable young people.
What Linda valued most in life was being with her husband. She also cherished time with her children, grandchildren, and great grandchildren. Her favorite hobby was reading, especially her bible and daily devotional.
A celebration of Linda's New Life with The Lord will be Saturday, August 17, 2013, 10:30 a.m. at Resurrection Fellowship Church, 1-25 & East Crossroads Blvd. with a reception to follow immediately, same location.
In lieu of flowers, make donations to the Linda J. Carbajal Cumbres Scholarship Endowment, U.N.C. Foundation, Campus Box 20, Greeley, CO 80639.
See: http://obit.bohlenderfuneralchapel.com/obitdisplay.html?task=Print&id=1232372&listing=Current
Memorial Service for Linda Carbajal
A memorial service for Linda Carbajal will be at 10:30 a.m. Saturday, Aug. 17, at Resurrection Fellowship Church, 6508 E. Crossroads Blvd. in Loveland.
Carbajal, who passed away July 24, served at UNC for 10 years as director of the Cumbres program. The Colorado native previously was an English teacher and high school counselor for 31 years.
An endowed scholarship in her name has been established at UNC. Contributions may be made at this secure web page.