Karen Mayhew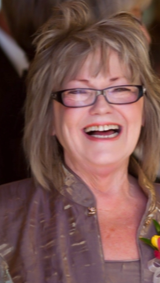 Karen Ann (Shivers) Mayhew of McKinney, Tx passed away peacefully on June 23, 2012 after being diagnosed with ovarian cancer on February 7, 2012. She was born May 17, 1947 to Ed and Inez Shivers in Corsicana, TX.
She was preceded in death by her mother. Karen is survived by two daughters: Debra and her husband, Scott Wylie of Denver, CO and Frances Brown of Kilgore, TX; two grandchildren: Haley and her husband, Michael Maglieri of Denver, CO and Ray Rollyson of McKinney, TX; and one great grandson, Austin Rollyson of McKinney, TX and his mother, Camey Phillips of McKinney, TX; as well as her father and his wife, Ed and Earline Shivers of Weatherford, TX; and her natural brother and his wife, Steve and Libby Shivers of Plano, TX. Karen is also survived by a number of extended family members as well as the father of her two daughters and his wife, Wayne and Linda Brown of Barry, TX.
Karen was a lifetime resident of Texas and spent the last 12 years employed by Kenneth H. Mitchell, owner and developer of the Country Lane Seniors Community in McKinney, TX. Karen was assistant manager of The Grand Texan Seniors Community in McKinney, TX. Her greatest joy in life was nurturing and maintaining the close friendships she developed at the Grand Texan. Karen enjoyed shopping and spending quality time with her family and dear friends as well as her two cats, Tasha and Johnny Cash.