Josephine Hernandez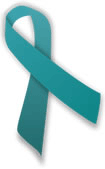 With great sadness, we post the passing of Josephine Hernandez. Josephine was born on February 25, 1977 and passed away on Friday, March 6, 2015.
As a member of Nicki's Circle Central and the Tele-Support group, Josephine was always positive and upbeat with her soft-spoken voice and calm demeanor. She was a financial advisor with TIAA Creff at the time of her diagnosis, which was delayed due to the doctors thinking she was too young to have ovarian cancer. She battled both ovarian and breast cancer with spirit and determination... she will be greatly missed. May she rest in deep peace and love.
Josephine was a resident of Thornton, Colorado at the time of her passing.
Memorial services will be held at Immaculate Conception Catholic Church in Lafayette, Colorado located at 715 Cabrini Drive. Rosary will begin at 10:00 a.m., followed by mass at 10:30 on Wednesday, March 11, 2015. The family invites you to stay for a reception at the church following the service.