Jean Hodge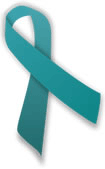 We are very sad to say that Jean Hodge of Nicki's Circle North passed away on February 12, 2013. Jean was an amazing fighter and worked tirelessly for the American Cancer Society's Relay for Life of East Boulder County. Her kind spirit and generosity were noted by all.
We will remember Jean with love.
July 27, 1959 - February 12, 2013
Jean Louise Dillard Hodge entered New Life on February 12, 2013 surrounded by family and loved ones. Born July 27, 1959 in Richmond, CA to Edward and Barbara Dillard. Survived by daughters Maggie and Christa, brothers Larry and Ted, and many family and friends inspired by her strength and courage. A Celebration of Jean's Life will be celebrated on Saturday, February 16th at 11:00AM at the Family In Christ Church, 11355 Sheridan Blvd., Westminster, CO. Wear teal. In lieu of flowers, donations may be sent to Colorado Ovarian Cancer Alliance, P.O. Box 9216, Denver, CO 80209.