Eleanor "Scottie" Annable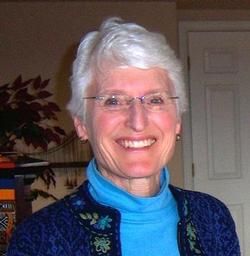 Sadly, we recently learned of the passing of Scottie Annable, a loved member of Nicki's Circle South. Scottie was a fighter with a calm presence and bright spirit. We will miss her at our Sky Ridge support group.
We will remember Scottie with love.
Eleanor 'Scottie' Annable
(August 4, 1938 - June 20, 2014)
Eleanor 'Scottie' Annable, 75, passed away at home in Centennial, Colorado on Friday, June 20th, 2014 following a 2.5 year courageous battle against ovarian cancer. Family and friends knew Scottie as 'one tough cookie': resilient in the face of adversity yet warm, sweet and the person everyone wants to have around. Scottie was born in Bluffton, IN on August 4, 1938, was valedictorian of her high school class, and went on to graduate from Purdue University in 1960 with a major in Math Education and English. While at Purdue, she was a member of Kappa Kappa Gamma sorority, Mortar Board, and was an editor of the Debris yearbook. It was at Purdue that she met W. Grant Annable, whom she married in 1960 and was with for 33 years. Following their wedding, they lived in Toms River NJ, Honolulu HI, Boston MA, Columbus IN, Armonk NY, Knoxville TN, and then 18 years in Stamford CT raising their family. She spent the next 23 years in Centennial CO, where she loved the mountains so much she once famously claimed 'they'll have to take me out of here in a pine box.' Scottie was an active volunteer in the communities where she lived, including Treasurer of the Shelter for the Homeless in Stamford CT, Treasurer of the Fairfield County Children's Theater, President of the Kappa Kappa Gamma Alumni Association of Denver, volunteer on Kappa's Book and Author Fundraising Dinner, member of the Junior League in CT and CO, and both an Elder and a Deacon of the First Presbyterian Church of Stamford CT and also of Montview Boulevard Presbyterian Church of Denver. She also volunteered her time at the Somali Community Center of Denver in the English Literacy Program and the US Citizenship Program. She regularly attended performances with the Colorado Symphony and the Denver Center for the Performing Arts. Scottie was an avid traveler, visiting faraway places such as Greenland, Iceland, Japan, China, Thailand, Australia, New Zealand and South Africa, and she was in Cairo Egypt a year to the day before the Tahrir Square uprising. She travelled to Nepal twice on a volunteer work trip through Montview Presbyterian Church where she and her fellow friends/workers were dubbed the 'Nepali Sisters.' Scottie was also a keen sportswoman and over the years was active in hiking, biking, canoeing, camping, and at age 64 she entered her first mini-triathlon in Denver. She went on several long distance bicycling trips including Ride the Rockies (twice), Los Angeles to San Diego, 500 miles through Alaska, the Canal du Midi in France, and The Seto-Naikai Inland Sea Route in Japan, all from her late 50s through turning 70. Scottie had a logical mind and a strong interest in computers and technology, including buying an iPad the night before her first chemo session. She worked as a tax preparer for an all-female CPA firm in Denver, a good fit for her level of attention to detail and numerical aptitude. Scottie and her loving nature, sense of humor, warm smile, and lively wit will be sorely missed by all.
Scottie is survived by her brother Richard 'Dick' Scott and his wife Lois Anastas Scott, both of Carmel IN, her son David Annable of Denver, her daughter Susan Annable Mulcahy and son-in-law Hugh Mulcahy, both of London, and her three grandchildren, Max, Evelyn and Felix Mulcahy. She was also aunt to Elizabeth James, Scott Vincent, Shannon Scott Wanner, Hilary Scott Buchanan, and their families. She is also survived by Grant's siblings and their families.
Scottie was predeceased by her parents Mary Hilma (Sappenfield) and Jess T. Scott, her aunt Evelyn Mohr, an infant son John Scott Annable in 1970, and W. Grant Annable, her former husband and father of her children. Martha Ann Wesner, another aunt whom Scottie adored, passed away at age 89 only three months previously. May they be sitting side by side, smiling down upon all of us.
A memorial service will be held on Saturday, August 2nd, 2014 at 2pm at Montview Boulevard Presbyterian Church, 1980 Dahlia Street, Denver. Interment of her cremains at Montview Columbarium in Denver and Elm Grove Cemetery in Bluffton, Indiana will be private.
In lieu of flowers, donations may be made to the Ovarian Cancer Research Fund (http://www.ocrf.org/donatenow) and Montview Presbyterian Church. (http://montview.org/giving/)