Deanna Sue Simon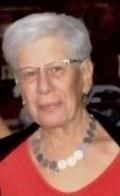 Deanna (Brady) Simon, of Denver, Colorado, passed away on Sunday December 26, 2021.
Deanna was born in Lincoln, Nebraska to Edward and Rose Brady and attended Rock Island Illinois high school. She bravely moved to the beautiful state of Colorado at age 19 without knowing anyone and never looked back. She met her husband Jack Simon (of blessed memory) at a Jewish singles event and had three daughters. She is survived by her three daughters, Lorraine Simon of Washington DC, Mickie Simon of Washington DC and Shelly Simon of New York as well as her beloved sons-in-law, Brian Schwalb and Josh Broitman and her most treasured gifts her five grandchildren Jack and Jamie Broitman, Jessica, Allison and Sydney Schwalb.
She was an active community member starting in her early days with ORT, an organization that provided training to displaced persons and immigrants seeking a new life. Deanna and Jack were founding parents of the Denver Jewish Day School previously known as Herzl - a progressive inclusive Jewish day school in Denver that continues to thrive.
She loved her community at Rodef Shalom and could be found there on most Saturdays. Deanna wrapped her family in love and her beautiful, knitted blankets. She rooted for big ten sports- especially her granddaughters' teams. Deanna had strong opinions about politics and the world and used her feet to march and her voice to promote these ideas.

Memorial donations can be made to the United States Holocaust Memorial Museum or the Colorado Ovarian Cancer Alliance.