Cindy Manfredini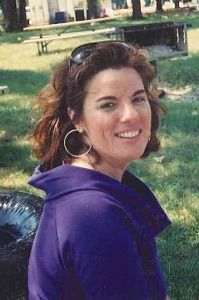 Cindy Manfredini
We are sad to announce the passing of Cindy Manfredini, a beloved woman of the ovarian cancer community. Cindy always did what she could to raise awareness of ovarian cancer symptoms and risk factors. She will be missed by many. May her spirit rest in peace and love....
"Cynthia "Cindy" Manfredini, 60, of Denver, Colorado passed away September 10, 2015 after a courageous battle with cancer. She was Born December 4, 1954 in Highland Park, ILL.
Cindy is preceded in death by her parents, Massimo Manfredini and Lida Marchetti. She is survived by her common-law spouse Gary Rasmussen, her only child Shannon Pumilio, son-in-law Joseph, only grandchild Victoria, Brother Lou Manfredini of Chicago, ILL, sister-in-law Mary Beth, two nieces Carmen and Mallory, two nephews Quinn and Max, her Zia Rose Bernardi of Highland Park, ILL., and many cousins. Cindy was a loving spouse, mother, grandmother, sister, aunt and friend. She was extremely proud of her Italian heritage and family.
She left this earth too soon at her young age, but came to embrace what her "purpose" was in life after being diagnosed with a rare form of Stage IV Ovarian cancer, Primary Peritoneal Carcinoma. Cindy put up a courageous fight to the very end, hoping to share her story with as many woman as possible. "Know the signs ladies" she would say as she passed out ovarian cancer awareness information cards to any woman who would listen. Cindy believed this was her purpose, her mission. So much so, that she even waited to pass away during the month of September...Ovarian Cancer Awareness Month.
Cindy asked her family and friends to PROUDLY continue to share her story with others in order to promote awareness and early detection of this disease. In lieu of cards or flowers the family asks that a memorial donation in Cindy's name be made to the Colorado Ovarian Cancer Alliance. Please visit www.colo-ovariancancer.org .
Per Cindy's wishes there will be no viewing or funeral services and her remains will be cremated."
http://www.newcomerdenver.com/obituary/107644/Cynthia-Manfredini/Denver-Colorado