Christy Forsyth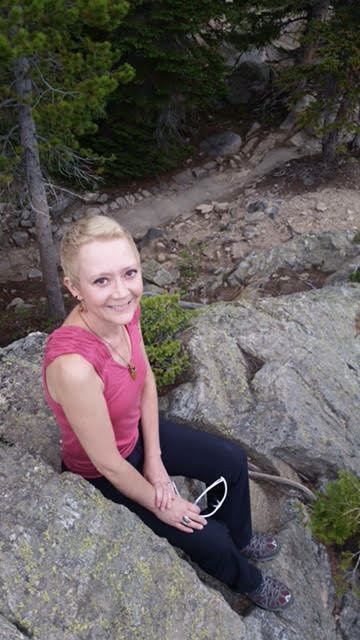 After a two year courageous battle with ovarian cancer, Christy Ann Bowman-Forsyth died peacefully on Wednesday, February 17, 2016 at 9:44 a.m. in Denver Hospice. She was 43 years of age. Christy was born on April 27, 1972 in Duluth, Minnesota. She married Jason Leroy Forsyth on September 25, 1993 in Odessa, Texas and they were currently living in Denver Colorado. She spent the majority of her childhood in the shadow of the Spanish Peaks Mountains in LaVeta, Colorado. She was happiest in the mountains, so their 22 year marriage was spent almost entirely in Walsenburg and Denver, Colorado.
Christy had a thirst for learning and hard work, standing up as Salutatorian at her High School graduation. Although she worked in a number of capacities in the early years ranging from retail to food service, her professional career was primarily in health care administration. She had satisfaction working for the Moll Family Practice in Walsenburg for many years coding and in administration. When Christy moved to Denver in order to help in the construction work at the Assembly Hall of Jehovah's Witnesses as a volunteer, she procured a position at the Sleep Well Center of Greenwood Village, Colorado. She worked there until her health no longer permitted it.
Christy loved her heavenly father, Jehovah, with her whole heart, soul, and strength as described at Deuteronomy 6:5. She served him loyally as one of Jehovah's Witnesses for over 30 years from her baptism on October 5th, 1985 until her death. She was a very active person who enjoyed hiking, biking, running, roller blading, walking and many other outdoor activities. She found much joy in planting and watching things grow and thrive. She also loved art and expressed this through many avenues especially poetry and painting. In all her endeavors she worked whole souled and accomplished wonderful things in her short time. She was very kind and giving with her friends and family. They will miss her sweet, loving, playfully mischievous personality and especially her infectious laugh.