Brenda Ingwalson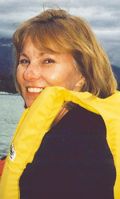 Brenda Ingwalson, from Nicki's Circle Evening at Swedish Medical Center, passed away February 10, 2013. Brenda attended Nicki's Circle along with her husband Jared for many years. We will miss Brenda and her lovely spirit.
We will remember Brenda with love.
Published in Denver Post on March 10, 2013
Brenda left us on Feb.10, 2013 at her home in Littleton, Colorado with her husband Jared, son Matthew, and daughter Kathryn by her side. She is also survived by one brother and three sisters. Brenda earned her Bachelors degree at Indiana University, and Masters at Colorado University majoring in Early Childhood Education. Brenda moved to Elkhart, Indiana in 1969 to student teach where she met Jared. They were married in 1970 and moved with his job for Johns Manville Corporation to Littleton, Colorado in 1975. After a rewarding career she retired from Sheridan Headstart in 2005 as their Early Childhood Education Coordinator but continued to lead the Book Bag Project, a literacy program she originated which placed thousands of books in the hands of young students. Supported by dedicated volunteers that program continues. Brenda was a wonderful mom, grandmother, a loyal friend, educator, global traveler, and hand in hand with Jared, built a loving, adventurous, stable world for everyone around her. She will never be replaced. She will always be loved, forever and forever.