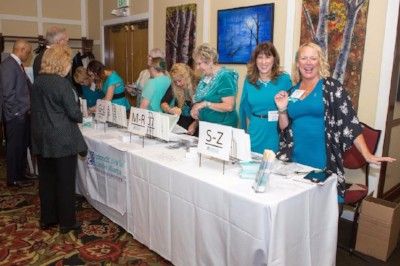 Thank You Volunteers!
COCA volunteers and volunteer board members make everything we do possible!
Awareness: Trained volunteers routinely reach out to people throughout Colorado at health fairs during the months of March, April, and May to raise awareness about ovarian cancer symptoms and risk factors! COCA volunteers engage in hundreds of meaningful conversations with women about the risk factors and symptoms of ovarian cancer. Congratulations and thank you to all our volunteers and board members who stepped forward to help COCA fulfill one of its most important missions!
Over 100 volunteers get up early on race day morning (the 2nd Saturday in June every year) to help make Jodi's Race for Awareness a special event for everyone who attends. This important fundraiser began in 2010 and includes a beautiful Survivors Breakfast, memorial wall, Family Fun Zone, memorial wreaths at the finish line, and so much more. We couldn't do it without our dedicated volunteers!
COCA's Annual Teal Gala is fueled by the energy and enthusiasm of our Volun-TEALS who check in guests, assist with the silent auction and "paddle up" fundraiser and more! Fun and fabulous!
Several COCA programs are 100% run by volunteers including our Survivors Teaching Students: Saving Womens' Lives program and our Comfort Kit program.