Until there's a test, AWARENESS is best!
---
When ovarian cancer is diagnosed at its earliest stage (Stage I), the chance of surviving beyond 5 years is over 92%. 
So, imagine if every Colorado woman knew the symptoms and risk factors of ovarian cancer and knew when and how to take action!
That's where YOU come in.
Volunteer to raise awareness at health fairs throughout Colorado. COCA will provide the materials and training. You give your time and save lives. Simple as that. 
Volunteer training is offered in March each year. Then volunteers are sent to 9HealthFairs and other fairs across the state of Colorado in April.
All training sessions have concluded for 2019. HOWEVER, if you want to volunteer and have not been through training, please contact Jeanene@Colo-OvarianCancer.org to arrange for a phone training session!
---
Health Fairs are back! Below is a list of the health fairs COCA will be a part of. Register now to volunteer at one or more health fairs. Help us raise awareness!!!

| City / Location | Date | Time | Address |
| --- | --- | --- | --- |
| Augustana Lutheran | 4/8/2019 | 7 am - 12 pm | Augustana Lutheran, 5000 E. Alameda, Denver |
| Augustana Lutheran | 4/9/2019 | 7 am - 12 pm | Augustana Lutheran, 5000 E. Alameda, Denver |
| Boulder | 4/13/2019 | 7 am - 12 pm | POSITIONS FILLED |
| Castle Rock Adventist | 3/30/2019 | 8 am - 12 pm | POSITIONS FILLED |
| Community College of Aurora | 4/7/2019 | 7 am - 12 pm | Community College of Aurora, 16000 E. Centretech Pkwy Aurora, CO |
| Eastridge Rec Center | 4/6/2019 | 7 am - 12 pm | Highlands Ranch Recreation Center at Eastridge, 9568 S. Unevirsity Blvd. Highlands Ranch CO, 80126 |
| Fort Collins | 5/3/2019 | 7 am - 1 pm | POSITIONS FILLED |
| Fort Collins | 5/4/2019 | 7 am - 1 pm | POSITIONS FILLED |
| Greeley | 4/13/2019 | 6:30 am - 12 pm | UNC Student Center, 2101 10th Ave. Greeley, CO 80631 |
| La Junta | 4/13/2019 | 7 am - 10 am | POSITIONS FILLED |
| Littleton Adventist | 4/7/2019 | 8 am - 12 pm | Littleton Adventist Hospital, 7700 S. Broadway, Littleton, CO 80122 |
| Parker Adventist | 4/14/2019 | 8 am - 12 pm | POSITIONS FILLED |
| Platte Valley Medical Center | 4/6/2019 | 7 am - 12 pm | Platte Valley Medical Center, 1600 Prairie Center Pkwy. Brighton, CO 80601 |
| Porter Hospital | 4/10/2019 | 7 am - 12 pm | Porter Hospital 2525 S. Downing, Denver, CO |
| Pueblo | 3/30/2019 | 7 am - 12 pm | Praise Assembly, 2000 Troy Ave. Pueblo, CO 81001 (La Junta exit 100 A off I-25) |
| Red Rocks Community College | 4/13/2019 | 8 am - 1 pm | Red Rocks Community College, 13300 W. 6th Ave. Lakewood, CO 80228 |
| Regis University | 4/6/2019 | 7 am - 12 pm | Regis University, 3333 Regis Blvd. Denver, CO 80221 |
| Sky Ridge Medical Center | 4/6/2019 | 7 am - 12 pm | POSITIONS FILLED |
| Windsor | 4/6/2019 | 7 am - 11:30 am | Windsor Middle School, 900 Main St. Windsor, CO 80550 |

---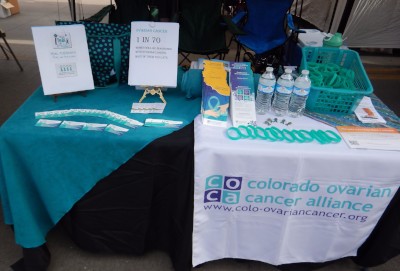 ---
Questions? Contact Jeanene@Colo-OvarianCancer.org