---
Offering a helping hand
Colorado Ovarian Cancer Alliance is dedicated to raising awareness about ovarian cancer and supporting women with an ovarian cancer diagnosis. With this effort in mind, COCA has created a small financial assistance fund to help women in Colorado diagnosed with ovarian cancer who find themselves in a situation of critical financial need due to the hardship of their ovarian cancer diagnosis.
También tenemos la aplicación de ayuda financiera en español! Para aprender más sobre nuestro programa por favor visite: www.colo-ovariancancer.org/en-espanol
Our Assistance Program:
Grants may be given to qualified applicants in Colorado for:
Monthly financial assistance for expenses like rent, mortgage, medical insurance premiums, groceries, childcare, transportation, utilities and medical bills.

Maximum $500/month/up to six months.

Medical expense assistance associated with seeing a Gynecologic Oncologist for a first-time or second opinion visit. $500 maximum/one time.

Limited transportation assistance to join a clinical research drug trial. $500 maximum/one time.

The COCA.Cares program pays bills but does not award funds directly to individuals.
Colorado Ovarian Cancer Alliance grants assistance at their sole discretion. We review each application individually and speak with each applicant personally. Submission of an application is not a guarantee of assistance.

To Qualify for Assistance:
We offer financial assistance to ovarian cancer patients if the applicant meets the residency, medical, and financial qualifications listed below. We also consider applicants with fallopian tube cancer.

RESIDENCY:
Must be a resident of the State of Colorado.
MEDICAL:
Monthly Assistance. To qualify for monthly assistance, you must: 
be diagnosed with ovarian cancer or fallopian tube cancer

currently be in chemotherapy or other oncologist-directed treatment for ovarian cancer

OR, have completed surgery or treatment for ovarian cancer within the last three months

verify your medical status from your oncologist (see application).
Medical Assistance. To qualify for assistance with the cost of a visit to a Gynecologic Oncologist, you must: 
be diagnosed with ovarian cancer or fallopian tube cancer

have no health insurance

or, have health insurance that will not cover a second opinion

verify your medical status from your current doctor (see application).
Clinical Trial Assistance. To qualify for clinical trial transportation assistance, you must:
be diagnosed with ovarian cancer or fallopian tube cancer

provide medical verification from the clinical trial doctor (see application).
FINANCIAL:
Income.  Your monthly household expenses must be more than your monthly household income, and your total income must be equal to or less than 300% of the HHS Federal Poverty Level (refer to the last page in our application). Also, we may be checking to see if your household income is equal to or less than the Area Median Income for your county (www.huduser.org).

Assets.  Your available assets, including cash, investments, and real estate properties other than your home, are less than the total of 6 months of your household expenses during treatment.

Assistance in paying the mortgage. A copy of your current year's property tax is required for mortgage assistance, and that total is compared to the median home sales price for your county.
You may be asked to provide additional paperwork to COCA to verify your qualifications. If any misleading or false information is submitted in writing or by phone, COCA has the right to withdraw your application, stop all assistance, and take steps to recover previous awards.

Our Application
If you feel you meet the criteria above, please download the application below, or contact Shelly Warnsholz, COCA.Cares Program Coordinator, at 303-588-2826 or Shelly@colo-ovariancancer.org for a copy of the application.

Our Financial Assistance Committee will review your application and let you know if you qualify for assistance from COCA.
---
If you have participated in COCA.Cares, please click here to complete a brief survey.
---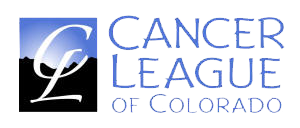 Many thanks to Cancer League of Colorado for their grant in support of the COCA Cares Financial Assistance program!