Survivors Teaching Students: Saving Women's Lives® (STS)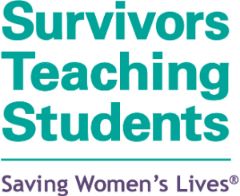 A program of the Ovarian Cancer Research Alliance (OCRA).
---
Basic Training Classes
Become an STS® Presenter:
Survivors Teaching Students: Saving Women's Lives®
Basic Training
This is an invitation to join and be trained for the national Survivors Teaching Students® program sponsored by Colorado Ovarian Cancer Alliance (COCA). Right now, we present to 3rd year medical students at the University of Colorado School of Medicine every 6 weeks. Through the telling of personal stories, we inform them of the risks and challenges of ovarian cancer. At each program we have three presenters and a team facilitator/moderator. CU class sizes are small and the students are friendly, open and eager to learn. If you are an ovarian cancer survivor, we want you to have the opportunity to make a difference by sharing your story as a presenter. We would like to train as many women as possible and have you rotate through the program as presenters throughout the year.
PLEASE NOTE! Before the training, you will need to write down your ovarian cancer story. Please download the following document to guide you in this process:
Please send your completed story to COCA and we will follow up with you on the next steps for joining a training class:  Jeanene@colo-ovariancancer.org
At the training class, you will: 1) learn about the national STS® program, 2) learn how to effectively tell your own ovarian cancer story, 3) practice reading your written story out loud, and 4) listen to each trainee's story.
The trainings take place at the COCA office:
1777 S. Bellaire St, Suite 170, Denver, CO 80222, or by telephone conference call.
Please contact Jeanene Smith for more info:
Jeanene@Colo-OvarianCancer.org
720-971-9436