Raise Awareness in Your Community!
Tell one woman a day in September!
Super COCA volunteer Mindy is challenging everyone to tell one woman a day about the symptoms of ovarian cancer.
Hand a symptom card to the Starbucks barista
Tell a waitress by leaving a card with your tip 
What about the women in your children's carpool? 
Your co-workers?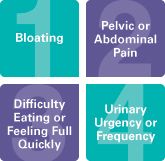 Do you wish you'd known the symptoms sooner?
Share this information and save a life!
Materials are available in September at the COCA office at 1777 S. Bellaire St, Suite 170, Denver. Office hours are 8:30 am to 5:00 pm.
Reach out through local merchants
COCA has beautiful posters and 5"x7" mini-posters with symptom cards attached that can be placed on bulletin board. Here are the spots we KNOW are happy to have our information:
Starbucks
Einstein Bros. Bagels
Panera Bread
Most LOCALLY owned businesses (i.e., Old South Pearl Street, downtown Littleton, Parker Main Street, Boulder's Pearl Street Mall)
Raise Awareness at your church or synagogue
Ask to have symptom information published in the weekly bulletin. 
Distribute symptom cards! Don't forget the ladies who work in daycare!
Place a poster on the bulletin board.
Ask that information be placed in the weekly bulletin / newsletter.
COCA's Speakers Bureau
Ask a COCA staff or board member to speak to your group (women's group, gardening club, book club, church group, etc.) about the symptoms and risk factors of ovarian cancer. Just call 303-506-7014.
You can pick up posters and symptom cards at the COCA office:
COCA's Office is at 1777 S. Bellaire St, Suite 170, Denver, CO 80222. 
Hours are Monday through Friday, 9:00 am to 5:00 pm.