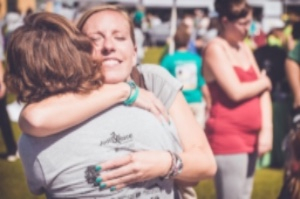 Thank You Volunteers!
Awareness - RAISED!
Thank You!
COCA volunteers and board members reached out to over 2,500 individuals at 22 health fairs during the months of March, April, and May to raise awareness about ovarian cancer! A mighty force of over 30 volunteers distributed COCA symptom cards and brochures at 9HealthFairs, women's wellness fairs, Jewish health fairs and community events, Sue Miller's Day of Caring, and other events. Our outreach extended beyond the Denver Metro area to Grand Junction, Boulder, Mead, Yuma, and Lamar. COCA volunteers engaged in hundreds of in meaningful conversations with women about the risk factors and symptoms of ovarian cancer. Congratulations and thank you to all our volunteers and board members who stepped forward to help COCA fulfill one of its most important missions!
Jodi's Race would not be the success that it is without our amazing volunteers.  Thank You!!!