Until there's a test, AWARENESS is best!
---
When ovarian cancer is diagnosed at its earliest stage (Stage I), the chance of surviving beyond 5 years is over 92%. 
So, imagine if every Colorado woman knew the symptoms and risk factors of ovarian cancer and knew when and how to take action!
That's where YOU come in.
Volunteer to raise awareness at health fairs throughout Colorado. COCA will provide the materials and training. You give your time and save lives. Simple as that. 
Volunteer training is being offered at COCA's office (1777 S. Bellaire Street, Suite 170 in Denver).
If you have worked a health fair previously, there is no need for you to repeat the training...unless you want a refresher!
NEW Health Fair Volunteer Training will take place in March 2018. Keep an eye on your email and on this site for further information!
---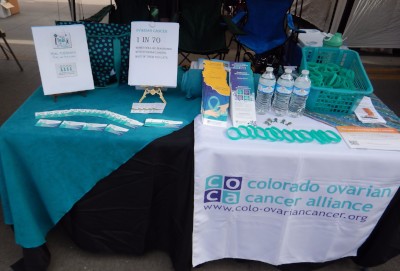 ---
Questions? Contact Jeanene@Colo-OvarianCancer.org